2020 Opening Day
Saturday 14th March – 3 Person Ambrose

Teams will be organised and selected after registration  at 11.30am with the official opening and hit off will be at 12.00pm with a shotgun start. Please ensure that you have your names lodged with the person on office duty by 11.30am.

You are welcome to bring along a friend who is not a club member. Persons with limited memberships are also encouraged to play.  Handicaps will be limited to 36 for men and 45 for ladies. Comp fee will be $10.00 per person.

Look forward to seeing you there on Saturday.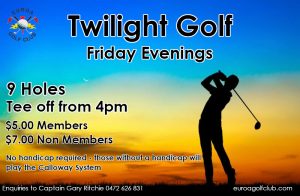 2020 Golf Program